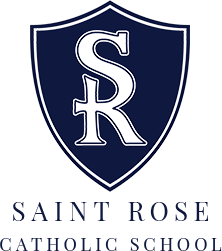 Saint Rose Catholic School opened its doors on September 7, 1959 under the direction of the Sisters of St. Joseph of Wichita, Kansas with Sr. Stanislaus as principal. In the beginning, first through fifth grade was offered with combined classes and an enrollment of 139 students.
Over the next three years, sixth, seventh and eighth grades were added. A kindergarten and pre-school were both established in 1983. Over the past sixty-four years, Saint Rose Catholic School has grown from a small, enthusiastic group of families to a thriving school with over 200 students in grades preschool through eighth grade. We are proud that many of our current students are second generation Saint Rose Catholic School students.
Our school campus includes classrooms, multiple playgrounds, a sports field, track, exercise center, and multiple outbuildings to support our academic, arts, and music curriculum. The Parish Center was built in 1981, providing a venue for school-wide gatherings such as assemblies, plays, prayer services, and sporting events; it also houses our school library and is used for many community events. A new classroom, staff lounge, and staff workroom were added in the fall of 1987. Two modular classrooms were added between 1991 and 1993.
Saint Rose Catholic School has a long history of providing an academically-rich, faith-filled education. We have an award-winning Band, locally-acclaimed singers and fine artists. The majority of Saint Rose Catholic School graduates enter honors or college preparatory courses at Mission College Prep as well as Paso Robles High School, Templeton High School, Atascadero High School and other private high schools throughout California. Most then go on to colleges and universities throughout the United States. We are blessed to contribute to the intellectual and spiritual growth of these fine students!