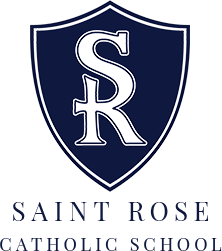 Admissions Process
Saint Rose Catholic School is accepting applications for the 2023-2024 school year. The school accepts applications year-round with review and acceptance depending on current enrollment. The application may be found below or may be requested by calling the school office at (805) 238-0304. We are excited about the coming year and happy to answer any questions your family might have about attending Saint Rose Catholic School.
STEP 1
Complete the New Student Application
STEP 2
Return the New Student Application to the school office. Please include the following information for your application to be considered for acceptance.
Letter of Recommendation (2nd-8th Grade)
Two Years Report Cards (2nd-8th Grade)
Two Years Test Scores (2nd-8th Grade)
STEP 3
Interview and test (if applicable) will be scheduled upon the submission of the above paperwork.
STEP 4
You will receive acceptance after the interview and an Enrollment Email will be sent. The following must be completed and returned to finalize the registration process which will be in April 2023:
Copy of Birth Certificate
Copy of Social Security
Copy of Catholic Baptismal Certificate (If applicable)
Copy of First Communion Certificate (If applicable)
Immunization Records - Click Here for Immunization Requirements
Medical Authorization Form
Release of Information Form
Request of Information Form
ADMISSION GUIDELINES
Every person, as a child of God, regardless of race, condition or age, has equal dignity and an inalienable right to an education. Therefore, no qualified student will be denied admission to the school on the basis of sex, race, color or national origin.
Non-Discriminatory Policy Diocese of Monterey
Non-Discriminatory Policy Saint Rose Catholic School
PREFERENCE FOR ADMISSION
Returning Saint Rose Catholic School Students
Siblings of returning students
Catholic Students from Saint Rose Parish
Catholic Students from other parishes
All other applicants