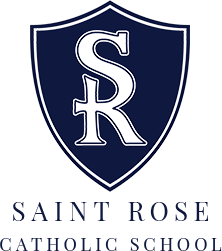 Educating the Whole Person
At Saint Rose Catholic School, we are committed to providing a rich education for our students, one that is academically challenging, faith-filled, and community minded. We emphasize a Core Curriculum of language arts, mathematics, science, and social studies, along with physical education, art, music, technology, Spanish language, and religion. We envision our graduates as:
Faithful Catholic Christians who
Have knowledge of the tenets of the Catholic faith and apply it to their decision-making
Value prayer in their daily lives
Actively participate in the Mass and the reception of the Sacraments
Serve others by sharing the faith through their actions and words
Lifelong Learners who
Have the ability to communicate both written and verbally
Demonstrate strong organizational, study, and analytical skills
Are critical thinkers and problem solvers
Strive to do their best and are confident in their abilities
Value knowledge and remain open to learning new ideas and concepts
Responsible Citizens who
Lead by example and take personal responsibility to become good role models for their community
Show compassion towards others, locally and globally, by sharing their talents and gifts
Resolve conflicts peacefully and respectfully
Act as good stewards of God's creation
Care for themselves both spiritually and physically
Incorporating Character into Our Curriculum
During the school year, Saint Rose Catholic School incorporates a program of Character Education into our standard curriculum.
Thomas Lickona, author of Educating for Character, points out that the long term success of any values' education depends on "...the extent to which families and communities join schools in a common effort to meet the needs of children and foster their healthy development."
The values being taught as part of our program are:
Respect, Acceptance, Kindness, Responsibility, Self-discipline, Reliability
Compassion, Service, Generosity, Faith, Hope, Trust, Love
Commitment, Loyalty, Effort, Humor, Friendship, Sincerity, Joy
Wisdom, Knowledge, Insight, Health, Holistic Living, Serenity, Enthusiasm
The Buddy Program
Our Buddy Program pairs older children with young students to be a "Big Buddy" for the school year. Each week, Big Buddies join their Little Buddies in classroom activities or special learning projects, offering older students an opportunity to learn to mentor and model positive behavior. Little Buddies enjoy the attention and support from older students, and are especially thrilled with a "Hi" on the playground.