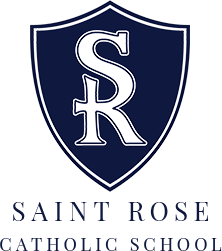 Saint Rose Catholic School has a philosophy in the tradition of faith-based education. We focus on the teachings of our Catholic faith while giving our students a solid educational foundation in the basic disciplines.
Spiritual development is integral to forming good moral values, self-discipline, and social responsibility. Programs in the visual and performing arts, Spanish, and physical education help develop life skills, critical thinking, and creative expression. These programs balance our curriculum by demonstrating our commitment to teach the whole person: mind, body and soul.
Facilitators and educators recognize that student centered teaching does not happen in isolation. Our school family includes parents, parish, and local community. The concept of working in community is key to our faith beliefs and our educational goals. We recognize and accept responsibility to be global citizens. Following the example of Jesus as teacher, we believe that each person in our community has an innate dignity and is worthy of respect.
The administration and faculty members at Saint Rose Catholic School are professionally qualified. All part and full time faculty hold California Teaching Credentials, or are working toward earning one. Several faculty members have also earned masters' degrees. As a prerequisite for contract renewal each teacher must meet the diocesan requirement of ten academic in-service hours and ten faith formation hours.
All teachers of religion have received catechetical certification from the Diocese of Monterey. The staff is dedicated to teaching the whole person: mind, body, and soul. Gospel messages are integrated into all subjects where appropriate. The dignity and respect of each student is promoted through individual recognition awards at Monday flagpole, monthly citizenship awards, class meetings, parent conferences, and is highlighted in class retreats.
Catholic and Cultural Traditions
As part of our Faith Formation, we incorporate special activities into the classroom and all school gatherings that reinforce the cultural traditions of our Faith, including:
Celebration of the Eucharist
Adoration
Religious Holidays
Class Retreats