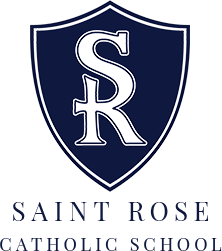 By signing the Saint Rose Catholic School Policy Agreement, parents/guardians commit to supporting Saint Rose Catholic School by participating in the following fundraisers, which help defray school operating expenses and keep the cost of tuition down:
Saint Rose Catholic School Annual Dinner and Auction St. Rose Catholic School holds their largest school fundraiser, the Dinner Auction, in the late winter or early spring of each year. School families are asked to participate in the event by planning for or working at the event. (Planning for or working at the event counts towards volunteer service hours.) School families are required to donate items or sponsor the event; if a family chooses not to do so, an opt-out fee of $100.00 will be billed to the family.
Annual Saint Rose Catholic School BBQ Each School Family is expected to sell ten (10) raffle tickets. The Annual BBQ will be held twice a year, once in fall and once in spring. Dates TBA.
CharityMania/SCRIP Each school family is required to either participate in CharityMania or SCRIP. Each family will be required to raise an amount of $196.00 per school year or opt-out for that same amount. If choosing to participate in Charity Mania: Each school family is required to sell fourteen (14) CharityMania tickets between two events: NFL Football and March Madness. Families will sell CharityMania tickets to raise money at a 70% profit margin for Saint Rose Catholic School. Families may opt out of CharityMania for full payment of $196.00, a rate of $14.00 per unsold ticket. CharityMania will begin in fall with FootballMania and end in spring with HoopsMania. You will be required to sell 14 tickets between the two events. If choosing to participate in SCRIP: Each family must purchase SCRIP in the amount necessary to generate $196.00 in profits for Saint Rose Catholic School from September 1, 2021 to May 1, 2022. If the SCRIP commitment is not met by May 1, the family is required to pay the deficient amount to $196.00 by June 1. Families may opt-out of SCRIP for this year by paying a fee of $196.00 by October 1, 2021. Sources of SCRIP Information regarding enrollment in these programs is available on the Saint Rose Catholic School website. SCRIP dollars are generated by using the following loyalty programs: • ShopwithScrip.com • EScrip.com — Online Mall • Food 4 Less Scrip (available for purchase in the school office) The school is responsible for tracking SCRIP dollars generated through ShopwithScrip.com, Escrip.com and Food 4 Less programs. While families are encouraged to submit Box Tops, this does not count towards the SCRIP requirement. Disputes of tickets or charges due to opting out must be settled by June 30, 2022.
Crab Feed The annual Crab Feed is a 7th grade family event that helps to pay for the cost of the 7th grade class trip to Yosemite, and if money is left over, the following year's 8th grade class trip to San Francisco. All 7th grade families are required to participate in the planning, working the event, and cleaning after the event. If a family chooses to opt out, or does not fulfill these obligations, they will be billed at full price for the cost of the 7th and 8th grade class trips.
Harvest Festival The annual Harvest Festival is held in October. Families are expected to contribute carnival items for the event.