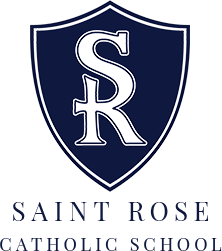 Blog
December 18, 2020
St. Rose Catholic School Community,
I can easily state that 2020 has been the most difficult year in my 24 years as an educator at St. Rose Catholic School. I look back to March 13, 2020, when I told my staff and the St. Rose community that we would be transitioning to distance learning for the next three weeks; people were shocked at how long the children would be out of the classroom. I don't believe many of us could envision the way the remainder of 2020 would play out.
Fortunately, we held our 24th St. Rose Catholic School Dinner Auction on March 6, 2020. Through the hard work of our dedicated Auction Committee, generous donations from local businesses and individuals, and the excitement generated during our 2020 event, we were able to have a net profit of $162,000.00 from the night. The 2021 rendition of our Annual Dinner Auction will look a little different than in the past as it will be virtual and will run over one week.
The importance of fundraising for St. Rose Catholic School cannot be overstressed as it makes up nearly 20% of our operating budget. The average cost of tuition at St. Rose Catholic School is $6,147.00 per student (parishioners a little less and non-parishioners a little more). The cost of educating a child at St. Rose Catholic School during the 2020 - 2021 school year is $7,718.00. Simply put, each families' out-of-pocket cost would increase by roughly $1,571.00 per child without our school holding fundraisers.
Please see the attached documents for information on our 2021 Annual Auction Celebration: "St. Rose can VIRTUALLY do ANYTHING." I am excited about and looking forward to your continued partnership in our largest fundraiser of the year and in continuing to provide your children with a safe and high-quality education.
Thank you again for your support,
Trevor Knable